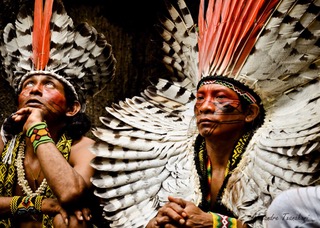 plant medicine
Invitation to travel to the Huni Kuin tribe in Brazil state of Acre 2020
HUni Kuin
Anaconda Movement is happy to present an amazing opportunity to experience authentic plant medicine from deep within the Amazon jungle. We bring to you Ayahuasca or, as the Huni Kuin tribe calls it, Nixi-pae. They call themselves the Huni Kuin meaning the "true humans" or "people with known customs." "Aya" means spirit and "huasca" means vine. This combination of two or more plants helps you to connect to the spirit molecule. Join us for a transformative ceremony in Guatemala, offering a beautiful natural setting and a guided, intended experience.

After years of experience taking and working with this medicine, I have come to realize that the work prior to the ceremony is instrumental in gaining information and wisdom from Ayahuasca (also known as the grandmother). It is important to understand that this is not a drug. Through the act of drinking this plant, you intend to heal, evolve, and free yourself from self-imposed limitations and psychological programming.

Tuwe comes from deep within the rainforest of the Amazon. It takes him 5 days to reach "civilization". He will make this voyage to bring this beautiful experience to you. He wants you to experience Ayahuasca in a proper traditional setting, in the sacred site of Lake Atitlan. His voyage is a long expedition, and he makes it happily so he can share with you his medicine, his guidance, and his music from the forest. Tuwe offers Rapé and Sangana prior to Ayahuasca. This combination offers a very deep connection to the plant medicine and prepares you for the visions and spiritual journey on which you will embark.

As the ceremony concludes, the following morning at sunrise, we will join in a circle to share the night, our visions, and our experience. Afterward, fruits and drinks will be provided, All are welcome to stay and receive Kambo. This is separate from the plant medicine, and is available upon request. You may spend the afternoon in the area or shuttle back to Antigua or the city. Lodging in the area for the following night can also be provided upon request.
Rainbow heart
huni kuin chief: Tuwe explains plant medicine
The intention behind the ceremony and PURPOSE
Our first Medicine circle will be held in Santiago Atitlan in a sacred Mayan site that will also be the host to the welcoming ceremony of the Huni Kuin tribe members to the Mayan lands held by the Mayan Elders, this is a private ceremony with only 7 people participating.
if you are joining us on the 17th of August you can stay at a hotel on the lake or arrive on the 17th before 5 pm so we can start the ceremony at sunset
On the 17th of August, there will be a private boat to be used as a shuttle getting you to our dock and location, if you have a good car you can drive to the land and there is parking on the land but it needs a 4x4 please let us know to send you driving directions.
what you should bring and how to prepare for a ceremony
we take this seriously and there is an order to the ceremony and a way to prepare, please no ALcohol on site and all your personal belongings should be put away in our safe
please be conscious of your surroundings and leave no trace of you being on this land
make sure your clothes are comfortable and that you will spend all night in them
the morning you can go swimming and refresh yourself but there is no use of the houses on the property so be prepared for only the necessary and take it easy the next day
blankets, sleeping bags, yoga mats

pillow

water bottle for refills

a plastic bag to put your garbage and also if you purge
Ayahuasca
Ayahuasca Ceremony Preparation – The Long List
Ideally, you want to prepare yourself as best you can for your encounter with the Madre. Like a yogi in preparation to go into a meditation retreat, you want to begin purifying your body by eliminating certain foods and drugs from your system at least 2-4 weeks prior to ceremony. For certain prescription drugs, including SSRIs, the abstinence period will be even longer.
A good rule of thumb is to eat organic, whole foods and go blandly cooked vegan.
At least 4 weeks out, during & after:
Pharmaceutical drugs (prescription & over the counter).& check with your facilitator.
At least 2 weeks prior, during, and after:
Sex, including masturbation, virtual sex, pornography, or erotic fantasizing

Alcohol

Marijuana

Violent media, such as horror movies, violent action films, & news war coverage

Recreational drugs, like LSD, MDMA, cocaine, amphetamines

Salt, soy sauce, or foods high in salt, such as canned or processed foods

Spicy food & hot spices (chilies, peppers)

Pork, red meat, cured meats

Aged cheeses

Contraindicative herbal supplements & medicines, such as St. Johns Wort, Kava, Kratom & check with your facilitator.
At least 1 week prior, during, and after:
Overstimulating media (books, movies, TV, social media, news)

Sugar or artificial sweeteners (stevia, aspartame, agave, honey, etc)

Overripe fruit, especially bananas, & dried fruit

Fermented foods (soy sauce, fermented tofu, kimchi, tempeh, and sauerkraut

Yeast or yeast extracts

Vinegar or pickled foods

Processed food (junk food, condiments, carbonated drinks)

Caffeine (coffee, green tea, energy drinks)

Dairy products (milk, cheese, yoghurt)

Animal fats (lard, butter)

Oils (use olive or coconut oil sparingly)

Nutritional supplements like protein powders

Sweets & chocolate

Synthetic soaps, perfumes, toiletries, etc.
** Stop eating 4 hours before you expect to actually drink the ayahuasca.